Neil's Story
Elle* was the daughter I never had. We first met in 2013 when she joined a creative writing group I was running at Sheffield Flourish. She came regularly and was an enthusiastic participant. She attended artists gatherings, was a good artist and writer, and helped with the set design for a panto I'd written. Less than two years later, this vibrant, outgoing young woman was dead.
A few weeks earlier, she'd left the group intending to go back to work and she seemed happy. We had a leaving do and said our farewells. I knew it was a high-pressured job and that she'd been applying for other work, but the last thing I expected when someone sat me down on a beautiful Friday morning was to be told that my extraordinary young friend had died. I was in shock.
When we first met, I was looking after my mother and I was in a bad place; emotionally I was in deep freeze. I didn't know Elle very well, but she helped me get through it. She had an enormous effect on me.
In the weeks that followed her death I struggled to do anything, then the group got together and decided to create a memorial for her.  We talked about her and wrote about her.
Being in green spaces always helps me. I'd sit on a park bench thinking about things. Maybe she needed more support. What kind of help did she get? Did she ever access talking therapy? Was it effective? Did she feel under pressure to go back to work? She told me that she'd stopped taking her pills. What impact did that have? There are so many unanswered questions and that's one of the hardest things to cope with.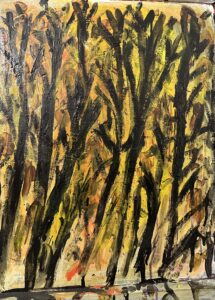 From what I can gather, she had a breakdown soon after she left us and ended up in a psychiatric ward. People think they're ready to do stuff but they're not and things go wrong. People think progress means getting off the medication and going back to work, but doing the best for yourself isn't always about going back to work. In my case, I know that I couldn't do a 9-5 job but given flexibility and understanding I achieve a lot. It's important to remember that work isn't everything.
Looking back, I wonder what difference it would have made if she'd stayed on her medication and gradually made the transition back into work. There were so many positives in her life. She loved hiking and riding bikes, she had support from her mum, and she had a creative group where she was engaged and enthusiastic. If she was alive today, I like to think that she'd be running her own projects.
People say that time heals but several years on, I still think about her. It's important to remember the people you loved and the things you loved about them. That's why I wrote the poem at the end of this article a few weeks after her death.
It's important for people who've lost loved ones to know that you can't always rescue them. It's important for wider society to understand that mental health is a serious matter. People are frightened of people who are mentally ill, but they're human beings. Mental illness and suicide affect everybody.
The only person who's consistently in the writing and art groups I run for Sheffield Flourish is me. People come for a while and then disappear; I rarely find out what's happened to them. All that's left is their artworks on the wall and the memories they've created.
At Flourish, our story is about community and creativity in a place where people feel safe. You might be depressed, ill, or have physical disabilities, but if you have something in your life that gives you a reason to get up in the morning, it's a start. Giving yourself that little extra bit of time can change the way you feel.
*Not her real name
The promise
You were a meteor
Bright star across my horizon
A blaze too short for me to know well
I knew well enough the promise you had
You live in a world of absolutes
Only the certain and the young exist there
And you were both.
You existed on the margin's edge
Sometimes safe, sometimes not
Your fuse delicate like your features blue
And the lights went out.
That's not really an end.
You find you finally leave
When the last person to know you goes
And your light burns like a pilot in me.
Poem and Artwork by Neil Simpson
Robyn Fletcher
August 18, 2023